Our latest News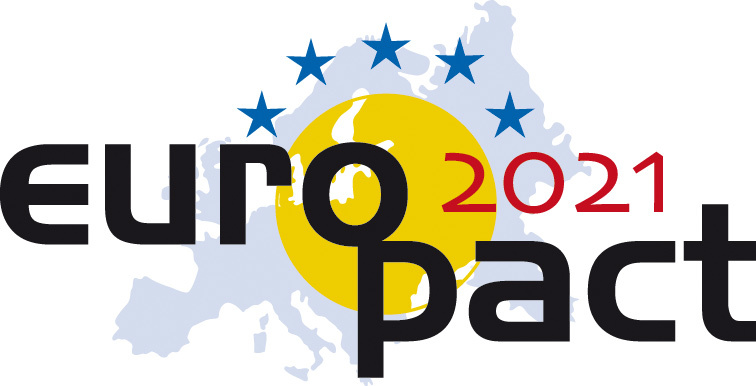 KIWI-biolab at the EuroPACT2021
15-17.11.2021
Annina Kemmer holds a talk
The 5th European Conference on Process Analytics and Control Technology will take place online on 15-17 November 2021.
The competitiveness of all processing industries greatly depends on its ability to deliver consistent, high-quality and high-value products at competitive prices, in a sustainable way. Data, Data Analytics and Process Analytical Technology will become the cornerstones for any global, competitive industry, and process analytical techniques are an essential tool in this future.
In this context, the EUROPACT 2021 focusses on featuring innovation along three pillars: Process Analytics in Real-World Manufacturing, From Data to Process Monitoring, Control and Optimization, and Novel PAT and Instrumental Technologies.
Our colleague, Annina Kremmer, is to hold a talk on the subject "Kalman Filter-based soft sensors for biomass, glucose and acetate in parallel Escherichia coli mini-bioreactor fed-batch fermentations".
Please, visit the EuroPACT 2021 website here.
---

World Bioprocessing Summit
27-29.10.2021
The KIWI-biolab opens its labs to the conference attendees
Today's Bioprocessing is the base of several emerging industries and technologies, including the production of therapeutic stem cells, gene therapy vectors, and new vaccines. Advances in Bioprocessing is a particular interest to the industry as it considerably shortens the development timeline, improves the final product and increase the productivity of Bio-manufacturing facilities.
In this context, the event aims to gather world technology leaders from pharma, biotech, and pharma suppliers to share case studies and interactive breakouts towards commercial progress.
We will have the pleasure to host a visit from 60 conference attendees to our labs.
Please, visit the website of the World Bioprocessing Summit here.
---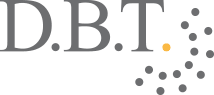 Deutsche Biotechnologietage 2021
20-21.09.2021
Nico Cruz talks about lab automation
The 20th German Biotechnology Days (DBT) takes place in Stuttgart on September 20 and 21, 2021. The event is considered the German class reunion for biotechnology. At the DBT, entrepreneurs come together with scientists and partners from politics, funding institutions and administration.
In plenary sessions as well as numerous symposia, top-class speakers present and discuss the diverse fields of application and the potential of biotechnology, from health research to bioeconomy, from medicine to industrial production.
Nico Cruz, project leader at the KIWI-biolab, is presenting his insights in the session "Automation: scale-up of the lab".
You can find additional information here.
---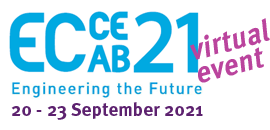 Engineering the Future
20-23.09.2021
The KIWI-biolab at the ECCE/ECAB 2021
The 13th European Congress of Chemical Engineering and 6th European Congress of Applied Biotechnology is taking place on 20-23 September 2021 in a digital format.
Our colleague Annina Kremmer will present a poster entitled "Kalman Filter-based soft sensors for biomass, glucose and acetate in parallel Escherichia coli mini-bioreactor fed-batch fermentations".
You can access all the conference information here.
---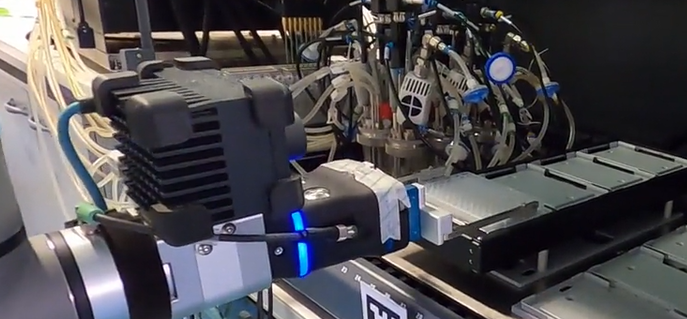 MiLA is fully deployed!
19.08.2021
This week was the first KIWI-biolab experiment in which our MiLA was fully deployed. It transported the samples from Tecan liquid handling station to Roche's Cedex BioHT. A great milestones for our KIWI-biolab!
Have a look to our video here:
---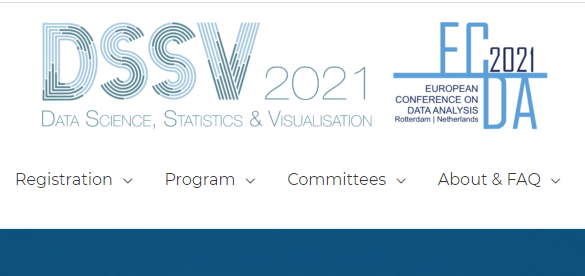 KIWI scientists at the DSSV-ECDA 2021
07-09.07.2021
Stefan Born, Nghia Duong-Trung, Jong Woo Kim and Christoph Lange, speakers at the ECDA 2021
Data Science, Statistics & Visualisation (DSSV) and the European Conference on Data Analysis (ECDA) are a joint virtual conference aimed at bringing together researchers and practitioners interested in the interplay of statistics, computer science, and visualization, and to build bridges between these fields for interdisciplinary research. The Conference will be hosted virtually by the Erasmus University Rotterdam (Netherlands) on July 6-9, 2021.
You can visit the conference website here.
---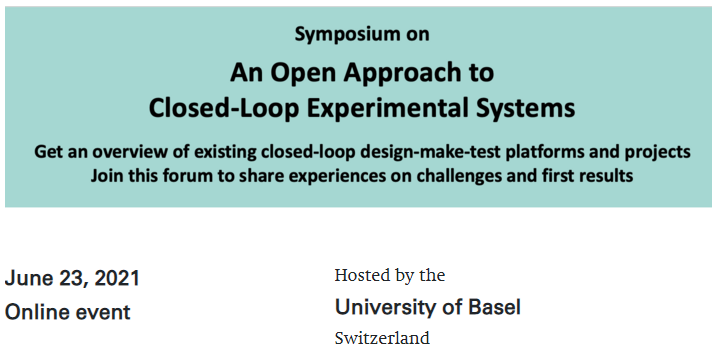 Digital Twins for Autonomous Bioprocess Development
23.06.2021
Nico Cruz at the Symposium on An Open Approach to Closed-Loop Experimental Systems
The University of Basel is hosting an online symposium on June 23, 2021 headed "An Open Approach to Closed-Loop Experimental Systems". The symposium aims to provide an overview of existing closed-loop design-make-test platforms and projects from across the world.
The challenge to fully automate, and thereby enormously accelerate the iterative cycles of hypothesis and experimentation, has been first addressed many years ago. However, until recently, the technical hurdles were considered too high by most. With advances in the automation of chemistry, biology, and machine learning approaches, this has started to change. An increasing number of companies and institutions are taking on the challenge.
Dr. Nico Cruz was invited to the symposium and will share his insights about Digital Twins for Autonomous Bioprocess Development.
For further information, please, click here.
---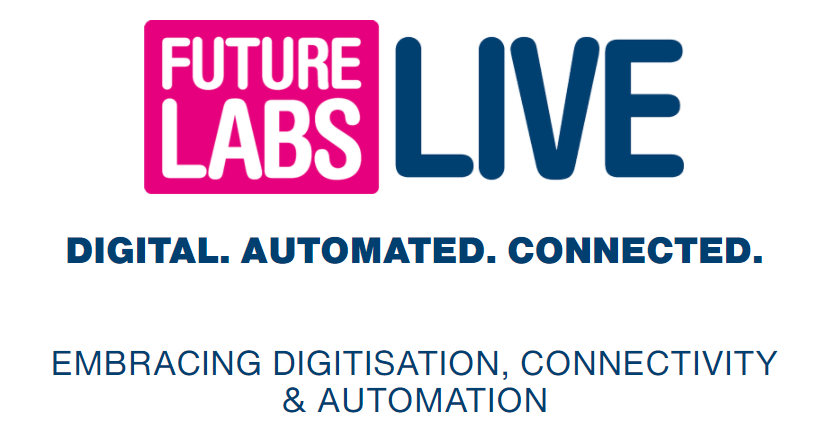 The LARA Software Suite
21-22.06.2021
Mark Dörr presents LARA at the Future Labs Live 2021
The Future Labs Live 2021 aims to create the world´s most important R&D lab event focusing on digitalisation, connectivity and automation. Held on June 21-22, 2021, with over eighty top global experts and presented virtually, Future Labs will provide comprehensive and interactive coverage of the key issues and technologies in different topics, such as robotics, business models, systems integration and standardisation, ML, AI and big data.
Dr. Mark Dörr will have an oral contribution entitled "The LARA Software Suite: An open, standards-based tool to manage (the KIWI Biolab) closed-loop experimental system(s)".
LARA is a research platform for fully automatized high throughput protein screening developed by Dr. Mark Dörr in the University of Greifswald . The facility covers experiment planning and design, mutant selection, cell-growth optimization, protein expression, cell harvesting and lysis as well as protein purification and activity assays.
To learn more about LARA please click here.
You can visit the Future Labs Live 2021 website here.
---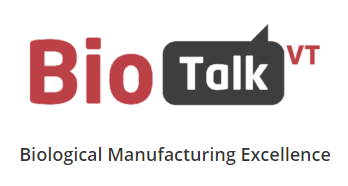 KIWI-biolab at BioTalk VT
15-16.06.2021
Global Manufacturing Strategies
Since 2014, the Live BioTalk EU and virtual discussion groups aims to empower their members to have world-class conversations, anywhere, anytime.
The goal is to bring together a small but focussed group of leading manufacturing and supply chain practitioners, innovators and solution providers from anywhere in the world onto a dedicated virtual platform for real time discussions on some of the key issues they are facing at the moment. The Virtual Talks are designed to build intimate business relationships, learn through experience, and look for targeted solutions.
Annina Kremer participated in the event with a talk about "Model-based high-throughput bioprocess development for therapeutic antibody fragment production".
You can learn more about BioTalk VT here.
---

KIWI scientists invited to the HTCD 2021
14-15.06.2021
Stefan Born, Mark Dörr and Peter Neubauer, plenary speakers at the HTCD 2021
The First International Symposium on High-Throughput Catalysts Design (HTCD 2021) will take place on 14-15.06.2021 in France in digital format.
This first edition of this symposium follows the construction of a collaboration network founded by several european high-throughput robotic platforms dedicated to research in biology (genome foundries, enzyme engineering platforms, microbiology/fermentation platforms, etc.). In order to greatly improve the exchange of knowledge on the use of high-throughput technologies and equipment for catalysts development between both academic and industrial researchers, the HTCD 2021 will extend the scientific domain of this network to chemistry and data treament.
Therefore, the HTCD 2021 will regroup scientists that study the automated synthesis, the testing and the characterization of chemo-, bio- and hybrid catalysts, as well as the methods recently developed to accelerate these steps with the use of new data treatments and artificial intelligence processes.
Prof. Uwe Bornscheuer (University of Greifswald), Dr. Mark Dörr (University of Greifswald) and Prof. Peter Neubauer (TU Berlin) are part of the scientific committee.
Dr. Stefan Born and Dr. Mark Dörr will present plenary talks entitled "Machine Learning Tools for Enzyme Development" and "Robot and Machine, Learning assisted Protein Engineering for improved BioCatalysis on the Robotic High-Throughput screening platform LARA" respectively.
Prof. Peter Neubauer is a plenary speaker for the Biology section, where he will talk about "Faster bioprocess development by model supported screening of new biocatalysts".
You can visit the HTCD 2021 website here and have a look to the Program here.
---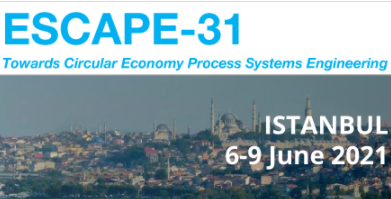 KIWI scientists at ESCAPE-31
06-09.06.2021
Ernesto Martínez will present the KIWI-biolab platform at the ESCAPE-31
The 31st European Symposium on Computer-Aided Process Engineering (ESCAPE-31) will take place in Istanbul from June 6th to Wednesday, June 9th, 2021. The conference aims to bring together researchers and practitioners of computer-aided process engineering (CAPE) community and provide a forum to present and evaluate emerging research methods and concepts, and to learn from industrial case studies.
The KIWI-biolab member, Prof. Ernesto Martínez, Professor of Systems and Organizations at the Technical University of Argentina (UTN) and Research Fellow at INGAR-CONICET, will present the KIWI-biolab platform at the 31st edition of the European Symposium on Computer Aided Process Engineering with a poster entitled "Probabilistic Modeling for Optimization of Bioreactors using Reinforcement Learning with Active Inference".
You can see the poster here:
You can visit the ESCAPE-31 website here.
---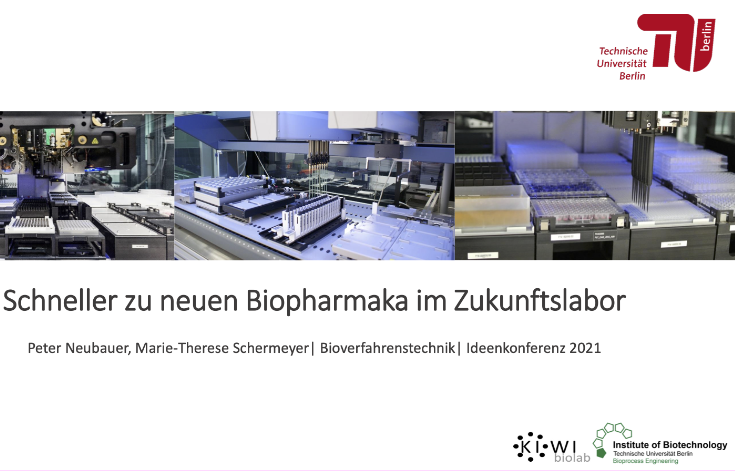 Faster to new biopharmaceuticals in the Future Lab
24.04.2021
Ideation Workshop at the TU Berlin
The development process for new drugs and biotechnologically produced medical devices is lengthy and very costly. In addition to the clinical phases, the R&D area for the selection of new active substances and materials and the strategy for their production, as well as the development of the actual manufacturing process up to the final industrial scale, is particularly critical. This process needs to be dramatically accelerated, especially with regard to the treatment of rare diseases (orphan drugs) and personalised medicine, in order to provide biopharmaceuticals and medical devices for small patient groups or individuals. By efficiently integrating state-of-the-art methods of informatics, digitalisation and laboratory automation, it should be possible to drastically shorten development times and increase the chances of success in selecting an effective active agent.
With this premise in mind, KIWI-biolab members Dr.-Ing. Marie-Therese Schermeyer and Prof. Peter Neubauer have organized, together with the team of the Der Simulierte Mensch – Si-M, Dr. Shirin Kadler and Prof. Roland Lauster, a ideation workshop to discuss the optimisation potential for the production process of biomedical products.
A further collaboration linking the different expertises between the teams is envisaged in a short-term future.
For more information, please click here.
---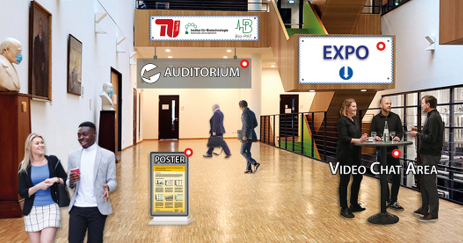 KIWI scientists at the BioProScale 2021
29.03.2021 – 31.03.2021
The 6th edition of the BioProScale Conference will take place on March 29-31, 2021, in a virtual format. The symposium is targeted at experts from research & development and industrial practice in the industrial bioprocessing of pharmaceuticals, food, feed and renewables
KIWI-biolab scientists and partners Dr. Mark Dörr, Dr. Sebastian Hans and Prof. Massimo Morbidelli were leading the session for High-Throughput Bioprocessing and Automation at the BioProScale 2021. Prof. Morbidelli (Politecnico di Milano) open the day with a plenary talk on "Digitalization platform and supervisory control for continuous integrated manufacture of monoclonal antibodies". Dr. Dörr (University of Greifswald) shared his insights about the use of the high-throughput screening platform LARA for robot and machine learning assisted protein engineering. You can read more about LARA here. Dr. Hans (TU Berlin) gave a talk entitled "Towards an autonomous model based high-throughput bioprocess development and clone discrimination".
Additionally, KIWI-biolab PhD students Lucas Kaspersetz and Judit Aizpuru presented their posters "Integration of a robotic small-scale bioreactor system
as a prerequisite for a selflearning and autonomous cultivation platform" and "Importance of oxygen signal shape matching for robust parameter estimation in bioprocess development" respectively. You can see the posters here:
---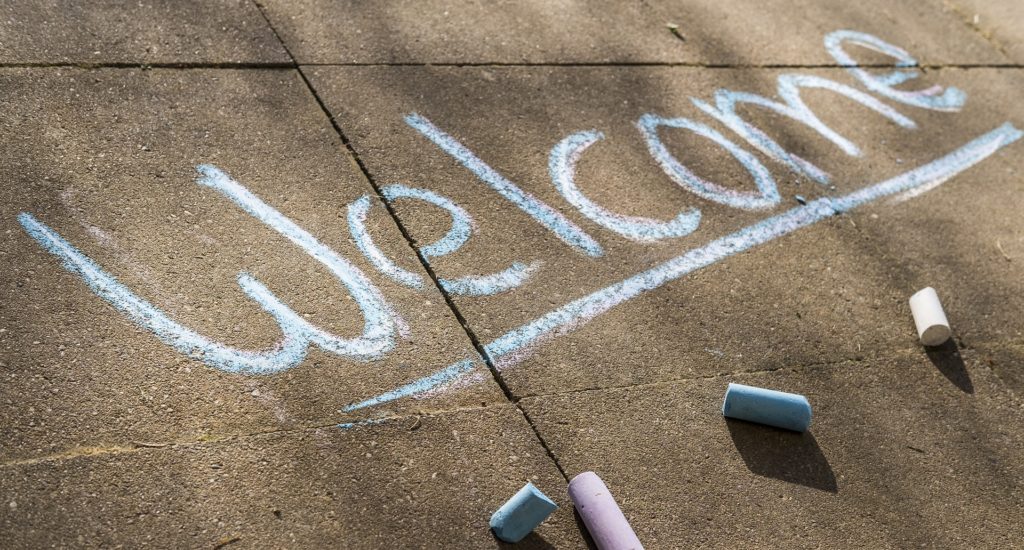 KIWI new members, welcome!
14.12.2020
Marie-Therese, Lucas, Christoph and Nghia, welcome to the team!
Dr. -Ing. Marie-Therese Schermeyer studied Bioengineering at the Karlsruhe Institute of Technology (KIT). After an exchange with Genentech, she decided to focus her research as a PhD student and postdoc on biopharmaceutical process development at the KIT. Her expertise lies in the area of automated high-throughput process development and protein stability analysis. In addition to her scientific expertise, she will use her communicative skills to build a strong network for the KIWI-biolab.
Lucas Kaspersetz holds a Master´s degree in Molecular Biotechnology from the Bielefeld University. He worked at Eppendorf as Bioprocess Service Specialist and at Novozymes OneHealth as Research Associate. He has a strong background in process development, and will work on the development and application of model-based methods for the monitoring, operation and experimental design of complex nonlinear biological processes.
Christoph Lange holds a Master´s degree in Mathematics from the FU Berlin. He worked at Zalando for some years, were he developed price optimization algorithms and sales forecasts. He has a strong background in supervised learning on large datasets, and he will focus his research on image and signal processing in TF3, working very close with TF1 to develop and apply state-of-the-art algorithms for image recognition.
Dr. Nghia Duong-Trung obtained his PhD in Machine Learning from Hildesheim University and worked as a full-time lecturer in the Can Tho University of Technology in Vietnam. He has a strong background in supervised learning and data mining, and many years of experience in deploying learning models in different types of data. He will develop and apply state-of-the-art algorithms for time series forecasting.
---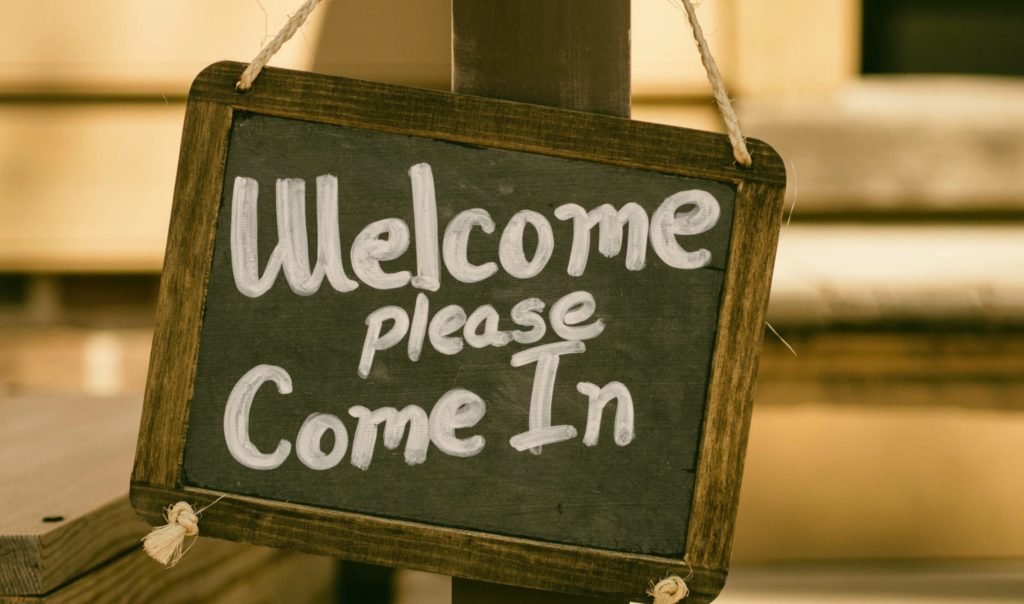 KIWI new members, welcome!
15.10.2020
Jong, Judit and Tilman, welcome to the team!
Dr. Jong Woo Kim got his PhD in February 2020 from Seoul National University. He has a strong background in process optimization and reinforcement learning. He will use his expertise in MPC and MHE to adapt these models to the special conditions in biotechnological set-ups.
Judit Aizpuru studied Physics and holds a M.Sc. in Computational Engineering and Intelligent System from the University of the Basque Country. Her previous works include benchmarking semi-supervised learning algorithms for manufacturing defect detection, feature selection and engineering for energy consumption prediction, and development of model-based recommendation system for process optimization. She will contribute to the KIWI-biolab with her expertise in the development of computational tools and methods for different applications.
Dr. Tilman Barz works as senior scientists at the Austrian Institute of Technology GmbH. He has many years of experience in modeling and model calibration, as well as optimal control and experimental design of dynamic systems in (bio)process engineering. He is an expert in data-driven analysis of nonlinear systems and has already played an essential role in the development of novel optimally controlled experiments in the laboratory of Bioprocess Engineering at the TU Berlin.
---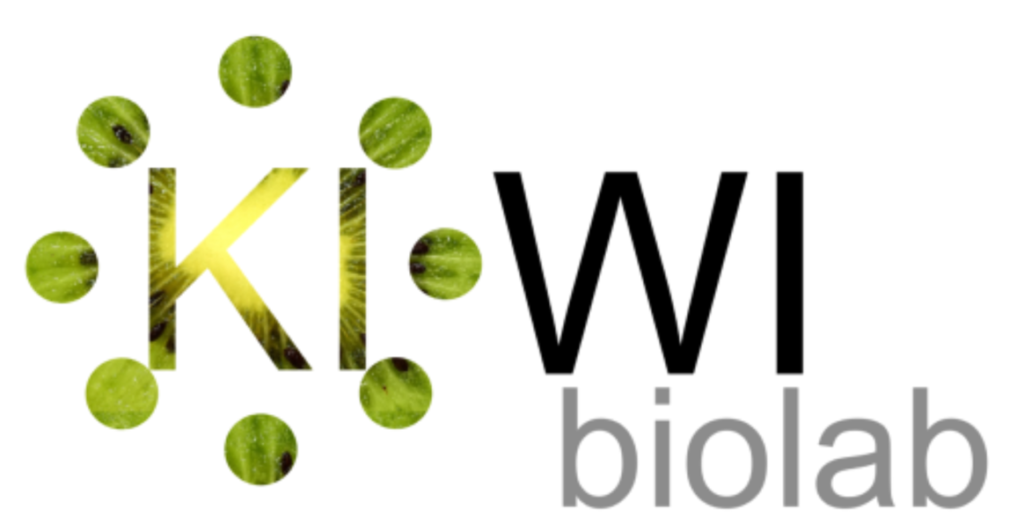 Launch of the KIWI-biolab
01.05.2020
The KIWI-biolab has officially started!
Our project has been selected by the German Federal Ministry of Education and Research (BMBF) as one of the three international artificial intelligence laboratories of the future. The team has received a budget of about EUR 5 million for the next three years.
The goal of our Future Lab is to enable an autonomous lab for bioprocess development through research in AI, ML and automation for a more efficient and sustainable production. By doing so, Germany´s leading role in automated high-throughput bioprocess development will be consolidated and further expanded.
To achieve this goal, the KIWI-biolab will bring together 11 international scientists in different fields that will undertake an interdisciplinary approach to develop new digital solutions for the autonomous planning of experiments, the monitoring and control of robotic systems, the analysis and evaluation of the data generated, and the optimization of bioproduction processes.
With the support of the German Government program "AI made in Germany", the KIWI-biolab will serve in the long-term as a platform to advance biotechnological processes, as this specific area possesses a high potential for improvement by using AI-based tools.